Stitched Together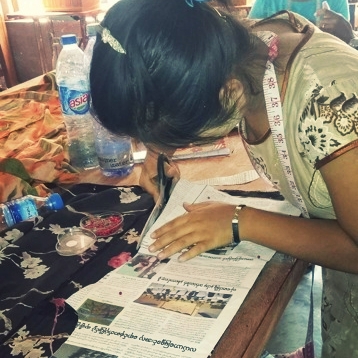 At Trinity Nazarene Church in Myanmar, discipleship and livelihood training became a joint ministry.
From April to August 2017, the church partnered with Nazarene Compassionate Ministries to launch a tailoring training program for women. The training included basic to advanced lessons in sewing from a professional tailor. While the goal was to provide women with marketable skills so they can earn a living, it also became a path to mentorship.
In Myanmar, more than a quarter of the population lives in poverty. In the community around Trinity, many people work as day laborers, including a large number of the congregation. The work is grueling and unpredictable; there is no way to know what the earnings will be long-term.
Because of the scarce and unpredictable job opportunities, supporting a family can be grueling and discouraging. Jerome Liana, Nazarene Compassionate Ministries coordinator for southeast Asia, says this is a good way to work toward economic stability.
The church's pastor came to each training session to open it with prayer and a devotional before a professional trainer began to teach practical skills and job training.
To make sure that the classes remained as effective as possible, the number of students was limited to six women. The training lasted four months and ranged from basic to advanced sewing.
Often, women and girls are dependent on their families for support. The skills they gained will empower them to make money on their own.
"It is a highly valued skill since there are not many jobs that can provide for all the family," Liana says. "Women and girls are normally dependent on the family, so it is important to equip them with this skill."
What makes the program unique, though, is the focus on mentorship combined with hands-on learning. The hope is that the women who participated will continue to grow as Christlike disciples in the areas where they start their businesses.
This story appeared in the Summer 2018 edition of NCM Magazine. To read this and other issues, or to subscribe, click HERE.